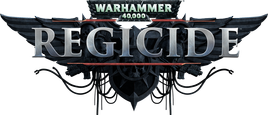 Set in the Segmentum Obscurus, the story begins with the death-rattle of a proud Imperial world and the victorious warcry of its alien conquerors. The Orks live only to wage unending war, and know it is only a matter of time before the Imperial war machine responds to their invasion.


Regicide, the strategy game based on chess set in the classic Warhammer 40,000 Universe from Games Workshop is an adaptation of 'Regicide', a board game described from the Warhammer 40,000 universe with similarities to the M2-era chess; played by mankind for over thirty-eight thousand years. Regicide blends board-game strategy mechanics with dynamic tactical abilities.
Recent Activity
Ad blocker interference detected!
Wikia is a free-to-use site that makes money from advertising. We have a modified experience for viewers using ad blockers

Wikia is not accessible if you've made further modifications. Remove the custom ad blocker rule(s) and the page will load as expected.